LMS Jubilee Preservation Pack
LMS Jubilee Preservation Pack
Leander, Galatea and Kolhapur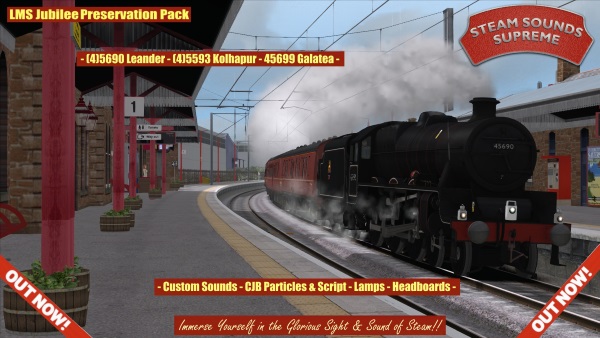 In this pack we bring you a comprehensive collection of preserved Stanier Jubilee locomotives. All locos come with our custom sounds, CJB particles & Script, customizable lamps and a selection of headboards.

Locomotives in the pack

(4)5690 Leander in BR Black and LMS Crimson Lake

(4)5593 Kolhapur in BR Green and LMS Crimson Lake

45699 Galatea in BR Red

If you want an impression of what is in the pack, watch the OFFICIAL VIDEO BELOW

PLEASE NOTE:

You MUST own the Jubilee Pack DLC to use this Pack. It isn't on Steam anymore. However, it can be purchased on Amazon, where you get a code to activate in your Steam Client.