The Keighley and Worth Valley Railway for Train Simulator
Officially supported by the Keighley and Worth Valley Railway Limited, we present this highly detailed representation of the 'Worth Valley' route for Train Simulator.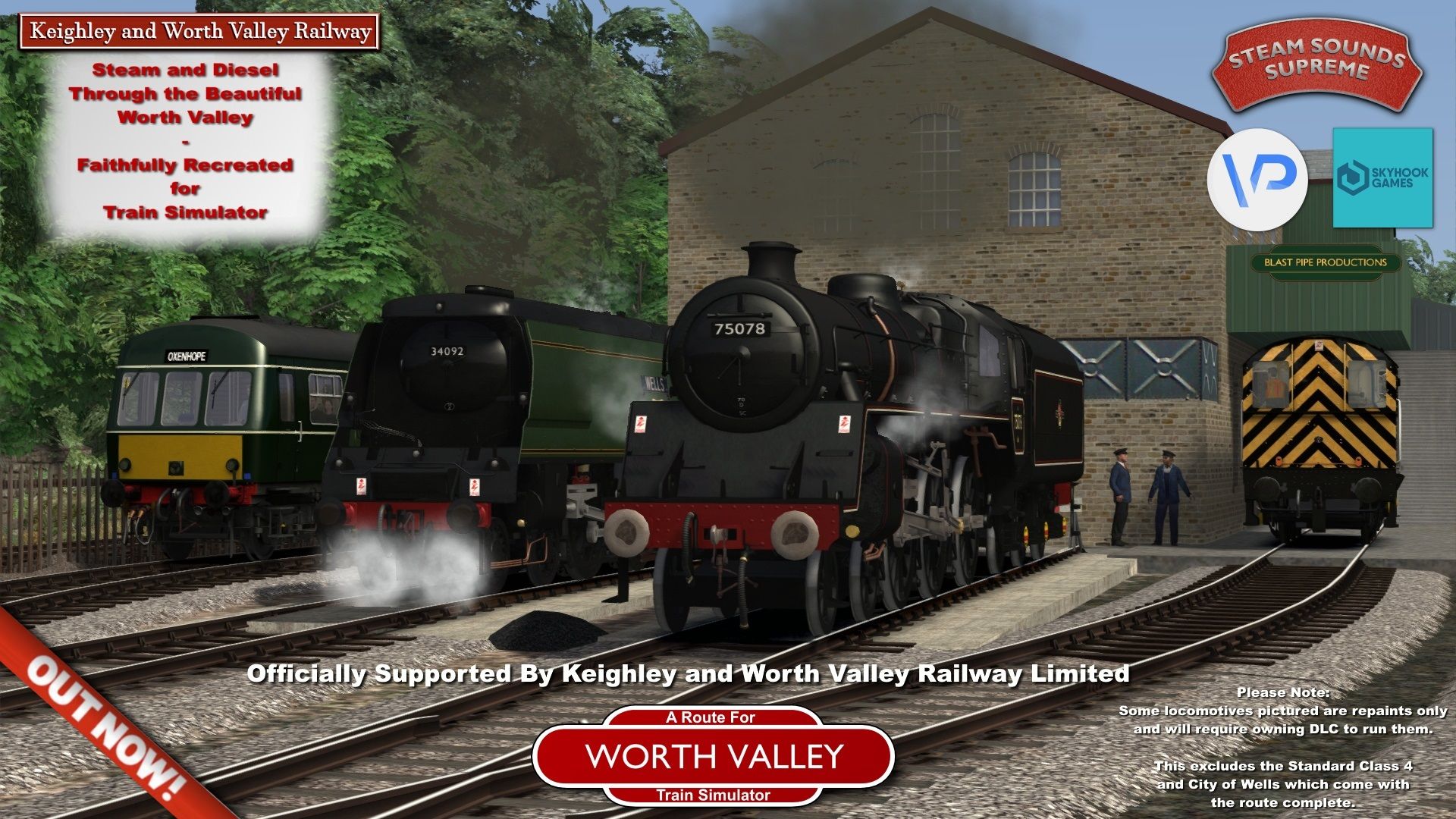 The real-world Keighley and Worth Valley Railway preserves a branch line that used to serve mills and villages in the Worth Valley, West Yorkshire, England. Now, it is run as a heritage railway. It runs from the town of Keighley to village of Oxenhope. It connects to the national rail network at Keighley station.
This route is for Train Simulator has been lovingly recreated with incredible detail, in association with Vulcan Productions(Route Builder+Loco & Stock Repainters) and Skyhook Games Ltd(Asset Creators), with assistance from Mark Brinton(Signals Scripting) and Blastpipe Productions(Loco & Stock Repainter).
**A NEW KWVR LOCO AND ROLLING STOCK ADDON IS ALSO AVAILABLE SEPARATELY HERE**
Standard Class 4 75078 and Bulleid Light Pacific 34092 City of Wells are complete models included here for the first time. The remaining stock in the pack are repaints only, meaning you will need some DLC installed to use them. See below the image gallery for a full list.
TO RUN THE ROUTE YOU WILL RQUIRE THE FOLLOWING ROUTE DLC INSTALLED. BOTH ARE **CRITICAL**

The Riviera in the Fifties is an important route to own because it provides all the vegetation, including trees, bushes, and much more foliage. We also use the ground textures from this route.
The Woodhead route privides us with sky dome textures, OHLE for mainline at Keighley, and a few more items. It is very important you own this route.
TO USE THE STOCK PACK
An extensive stock pack has been prepared featuring locomotives and stock currently on the real-world line. But as these are repaints only, you will require the following DLC to use them: