BR Standard 9F Sound Pack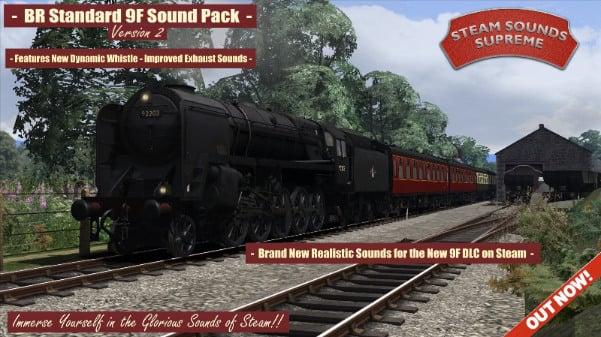 Contents

A full and realistic set of sounds giving you all the sounds you would want to hear from a big locomotive like a BR Standard 9F*, including: 3-part exhaust sounds including pilot and main valve; the shrill of a BR Standard whistle; Valve and motion sounds; coasting sounds; extra cab sounds and much more. Both the double-chimney and single-chimney versions have been modified by the pack. You'll notice subtle differences between the sound of the two types.
**Version 2** - The sounds have been improved for version 2. A better set of double-chimney 9F exhaust sounds have been obtained, and put to good use. We have also managed to locate a suitable sound loop for higher speed exhaust sounds. We also put in our 'Dynamic Whistle' - as seen on Facebook. This enables you to play with the whistle and vary the sound according to the position of the whistle handle. To achieve the effect however, in-cab use is required.

Special Controls:

***PLEASE NOTE***
The toggle button for changing from realistic to legacy mode has been moved to the Return key
Short Whistles - B

Guards Whistle - Shift+Spacebar

Firemans "Right Away" - Shift+B

Dynamic Whistle - In-cab Control ONLY
Scenario:

We have included a scenario to give you a gentle demonstration of the sounds in action. The scenario takes place on the East Somerset Railway, where you drive 92203 Black Prince(without nameplates) on it's final day in traffic on the ESR, before moving on to pastures new.You handle the first round trip of the day and get to hear
all the new sounds as you do so.

DLC & Other Requirements:
East Somerset Railway - UKTrainsim.com

GWR 56xx Pack - Steam

GWR Small Prairies - Steam

UK Carriages Freeware Pack - UKTS Freeware Packs

Standard 4 4-6-0 Western Region - Digital Traction

Somerset & Dorset Route - Steam(Default content before TS2013)
PLEASE NOTE: You MUST have the Standard 9F Pack DLC from Steam to use this pack. This is NOT compatible with any other 9F released by any other developer.