GWR Wycombe Railway Wagon Pack
A set of wagons being created specifically for the Wycombe Railway and Joint Line. These are to be released alongside our GWR 28xx. The pack is to include 2 types of GWR car carrier for Morris Cowley - the Damo A & B - and a small selection of private owner wagons for Thame, Wheatley and Oxford. Also to be included are Mink Covered Vans, 10t Ballast, Loriot L and D type and a GW Toad Brake. News and updates will be reported below as the pack develops.

- 03-05-16 -
This pack has been complete for quite a while. However, we are awaiting the completion of the 28xx loco. The two packs will be released together. Keep an eye on our Facebook Page for news.

- 30-11-15 -
Ballast Wagons
Next addition to the pack are a pair of GWR ballast wagons. These are all-steel construction.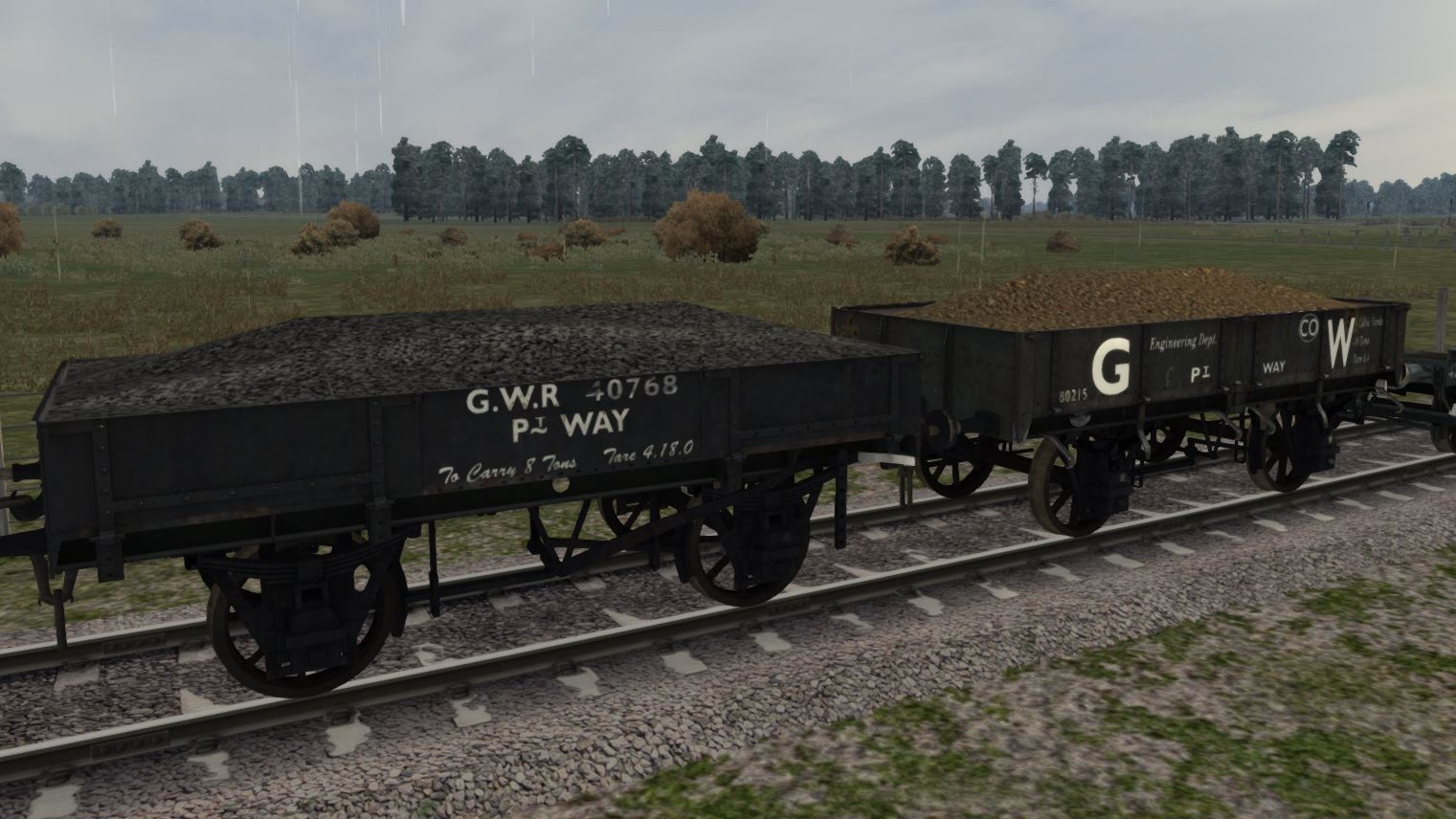 A Pair of Minks
And to complete the pack we have a pair of Mink 'A' covered vans. These have quite a vintage, having been built way back in 1914. Many were sent overseas during the WW1. Most returned to work on the GW system until the 1960's. The pair modeled here are 10 ton and 12 ton versions.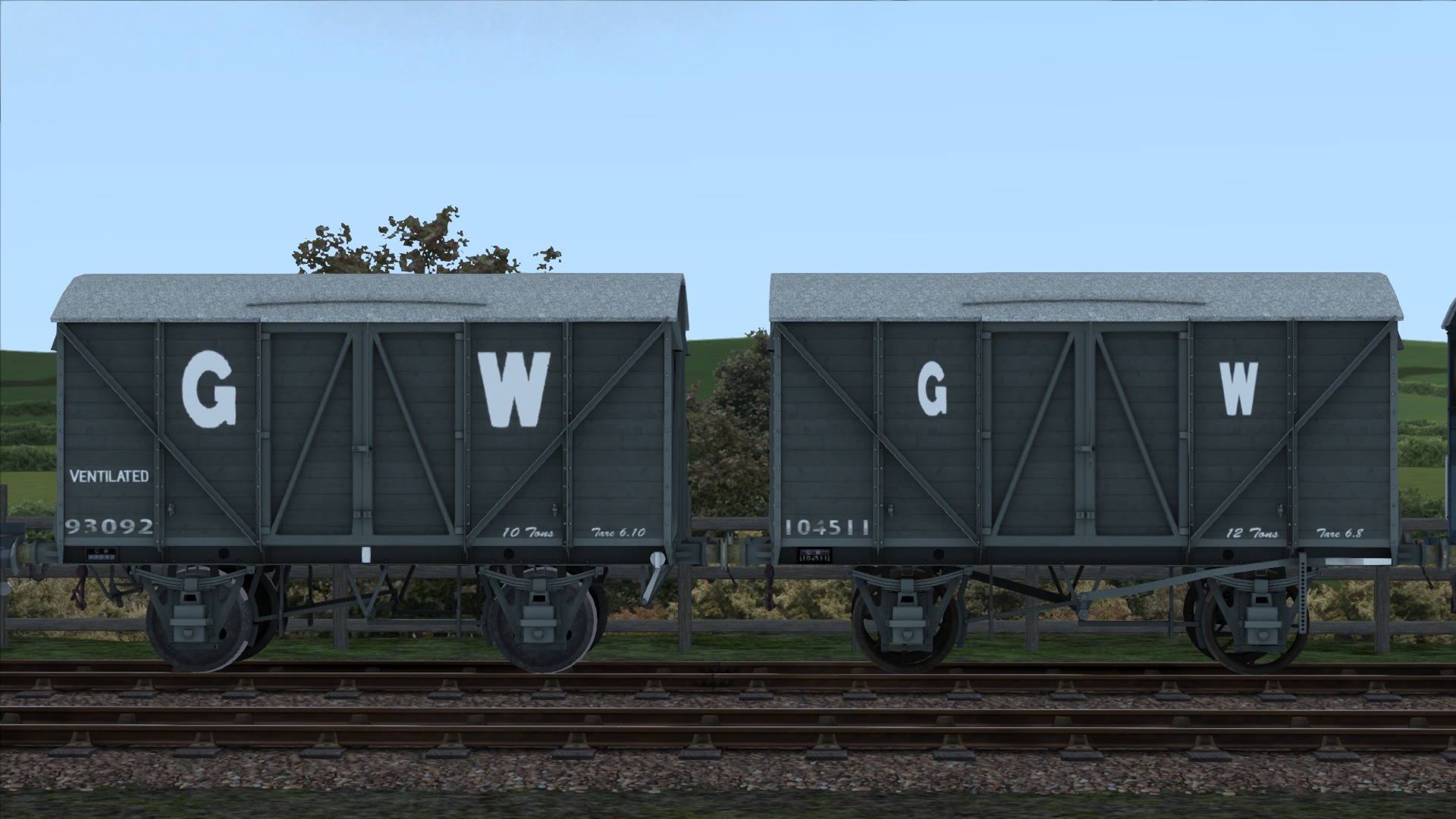 - 21-11-15 -
A Pair of Loriots
We are pleased to announce the addition of a pair of Loriot Wagons to the Wycombe Railway Wagon Pack. We have opted for the D and L diagram.

On the Great Western, they assigned wagons code names for telegraphic messages. The name 'Loriot' was applied to all 'Machine Truck' wagons. This telegraphic name was painted on the side of each wagon, followed by a letter determining it's diagram. This letter is a code which refers to the the wagon type. The D stood for Plate Glass Wagon, whereas L stood for Match Trucks.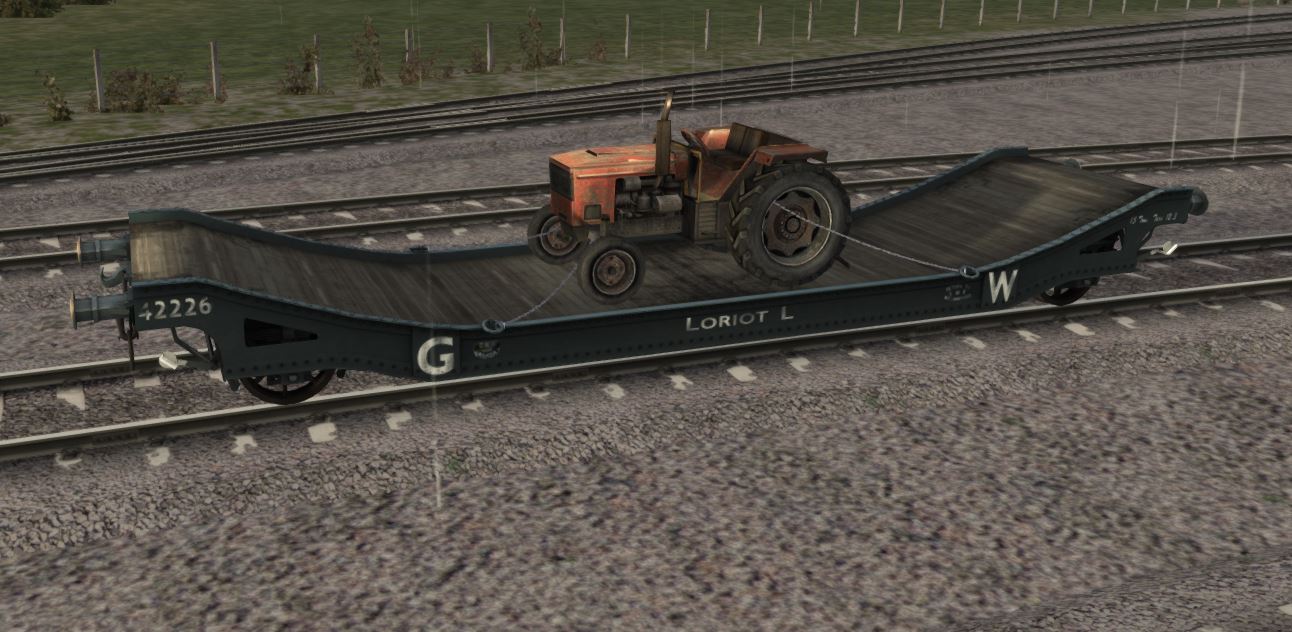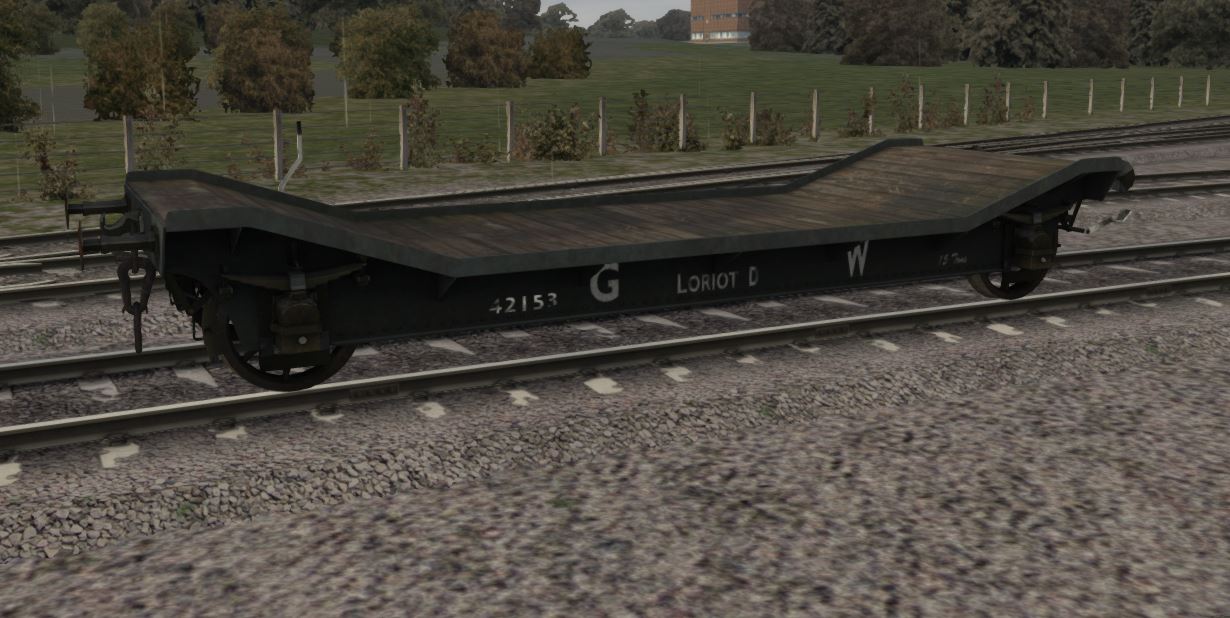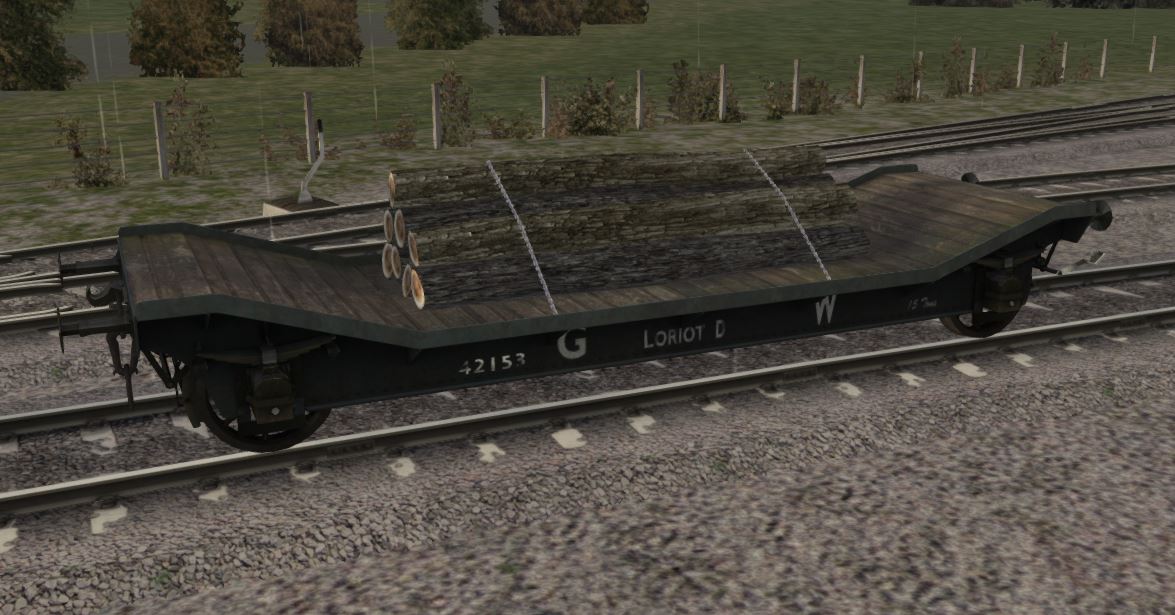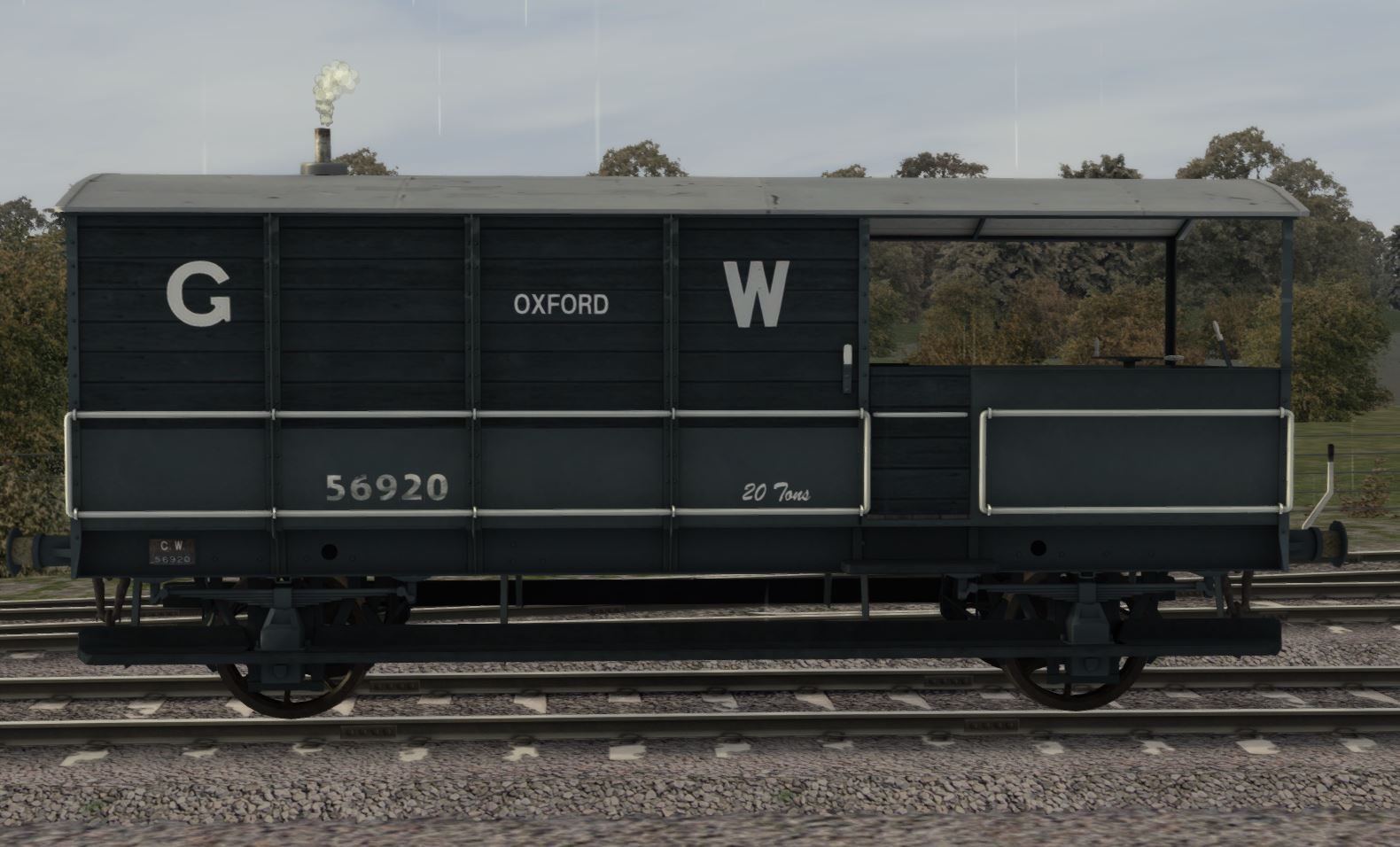 - 17/11/15 -
**NEW WAGONS TO BE ADDED**
We are pleased to announce that this wagon pack is being expanded even more is to be included:
2 Mink Covered Goods Vans

2 10 Ton Ballast Wagons

Loriot D and Loriot L Type

GW Toad Brake
Add this to the collection of PO 7-plank wagons and the Damo A & B, this is going to be the perfect wagon pack for the Wycombe Railway!! Images of the other types listed above will appear here soon.


- 09-10-15 -

A selection of Private Owner 7-plank wagons have been created. These were generally for local coal merchants and would be delivered to the station yard as part of a goods train. The empties would be collected again and added to a goods train.
They were built by the Gloucester Railway Carriage and Wagon Company.
We present 4 Thame merchants, 2 Wheatley and 2 for Oxford. These are in 3 colours - Dark Grey, Dull Red and Bright Red.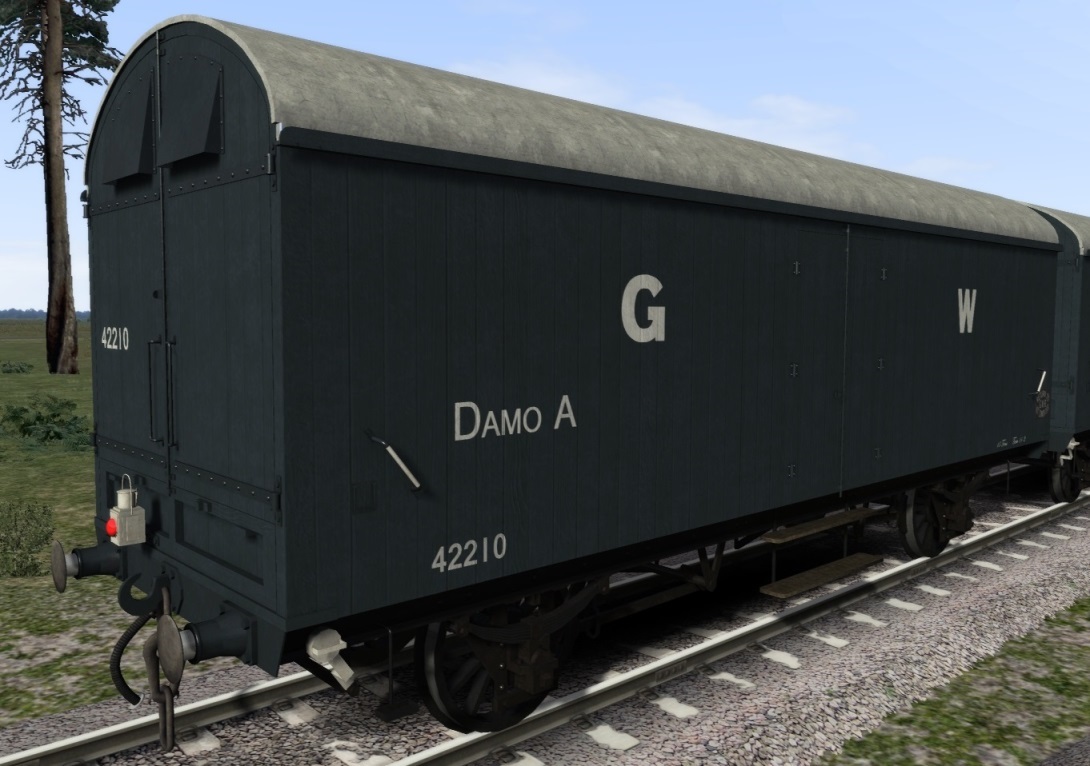 - 03-10-15 -
The GWR Damo A van is complete
Dynamic tail lamps have been added. These will show when the van is the rear-most vehicle in a formation. This is useful because they were often added to the rear of a passenger train.
The lamp is activated at the non-coupled end of a train by activating the loco headlights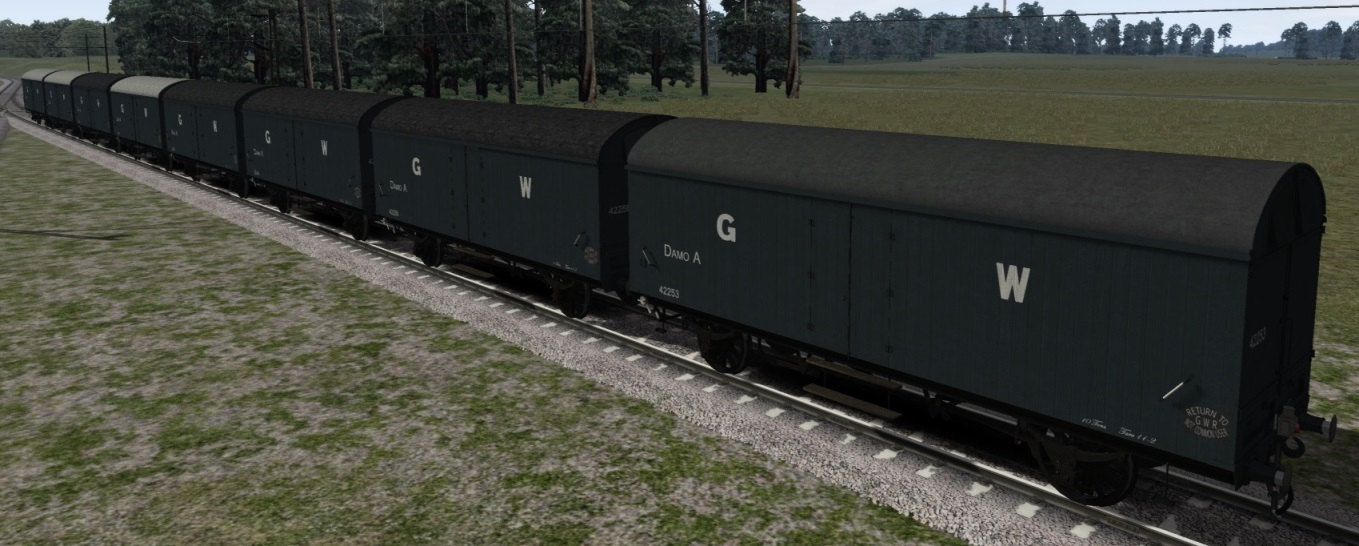 Pictured are a line of Damo A's coupled together. The 3 roof types can be seen. The roof colour can be changed using code in the vehicle numbering field in the editor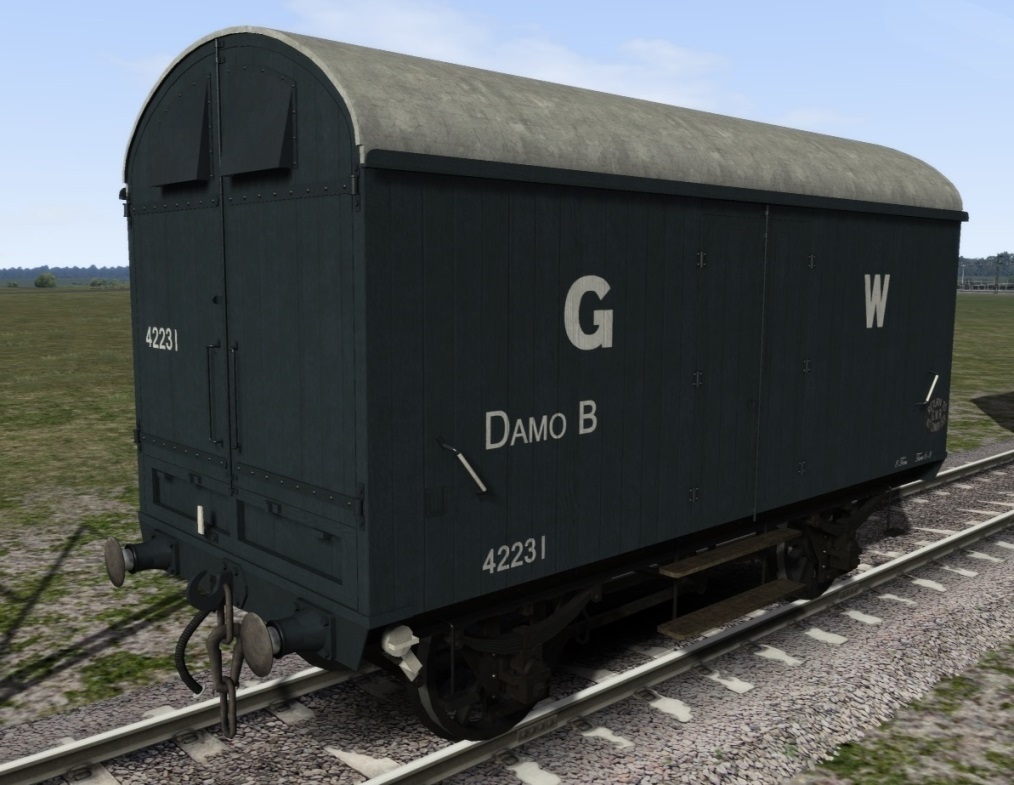 - 30/09/15 -

The Damo B van in in game!!

Next stage with this particular van is to make the 3 roof variations
Once that is complete, it will be onto the Damo A van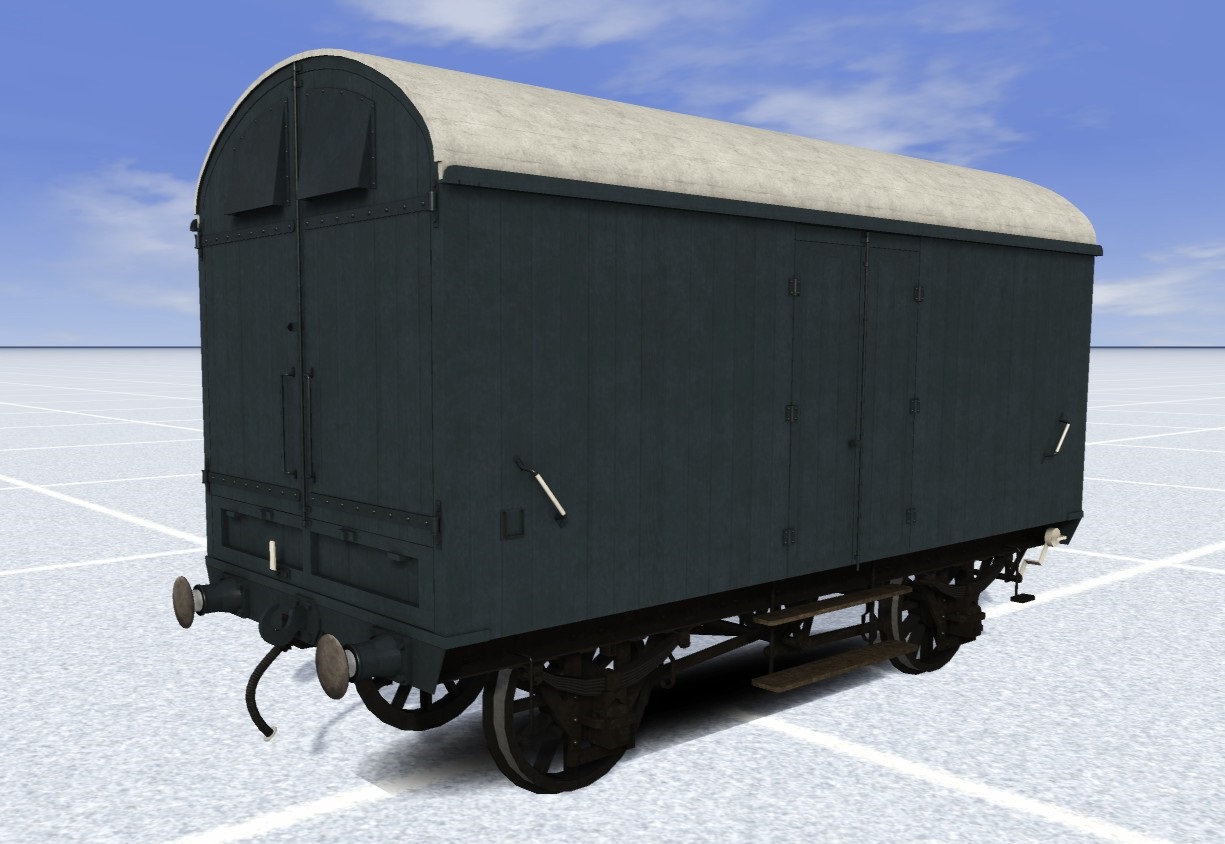 - 29/09/15 -
First image of the GWR Damo B with a white roof. The Damo A & B will come with scripting to allow 3 roof colours - white, weathered white and dark.

The Damo's were constructed by the GWR specifically for the transportation of cars. They had end doors, and ramps. This enabled cars to be loaded from goods platforms. With a line of coupled wagons, each with their end doors open, and a connecting ramp between each one, cars could be loaded at one end of the train, and then driven to the other!